WE ARE NO LONGER AN ACTIVE RESCUE
PLEASE GO TO :
to apply to adopt or surrender a dog.
*****************
ADOPTED! TOUIE WAS RESCUED AS A YOUNG DOG AND NEEDED RESCUE AGAIN WHEN HER MISTRESS DIED, SHE WAS 12 YEARS OLD AND NOW HAS A GREAT NEW HOME!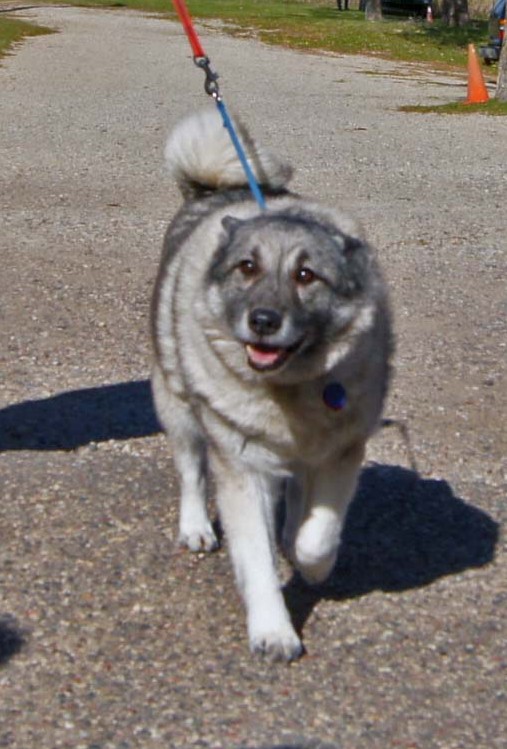 ****************************************************************
WE ARE VERY PROUD OF OUR RESCUE STAR
TIPPI UNN SIDRUN CGC TDI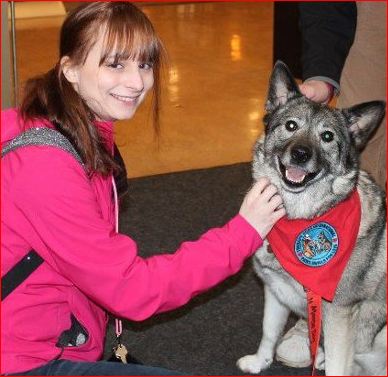 Introducing Tippi Unn Sigrid, aka Tippi. Tippi is a therapy dog, shown here working at Lewis University in IL.
Tippi provides canine therapy in a number of venues, including Lewis University, the Children's Advocacy Center
of Will County and Our Lady of Angels Retirement Home. The purpose of her visits includes stress relief,
company and a way for people to interact with a friendly dog. Tippi specializes in "belly rubs" and tolerates
being dressed up for various visits. Tippi exhibits the versatility of a Norwegian Elkhound. She was rescued and
is registered through the AKC PALS program. She has her Canine Good Citizen and TDI designations.
THANKS TO HER CURRENT OWNERS, TIPPI HAS BECOME A VIP (very important pup) !
BELOW ARE COLLAGES OF SOME OF THE DOGS WE PLACED.
(SEE TIPPI AS WE FOUND HER IN 2009 BELOW)
***********************************************************************